Omega: World's Smallest 100W & 200W USB-C Charger (Detailed)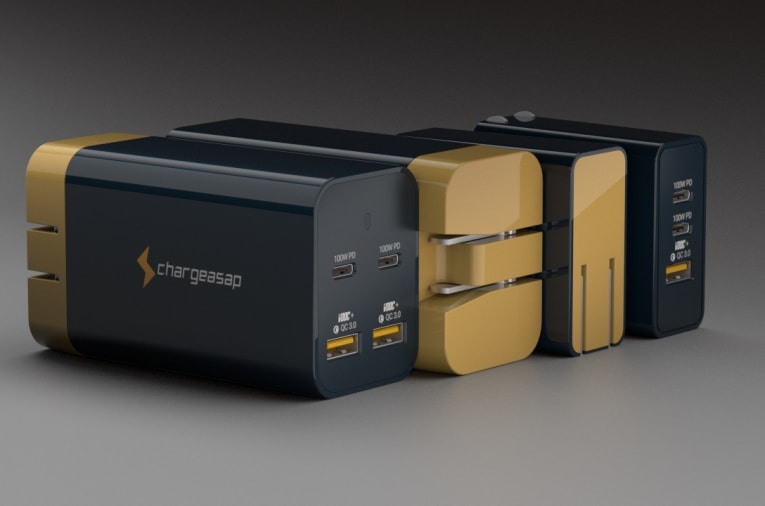 Revolutionary 100W & 200W credit card-size charger | Quick charge 4 devices at the same time

Pocked-sized Omega Charger is the world's first 200W Gallium Nitride (GaN) charger and also the world's smallest 200W charger that is up to 66% smaller than traditional chargers.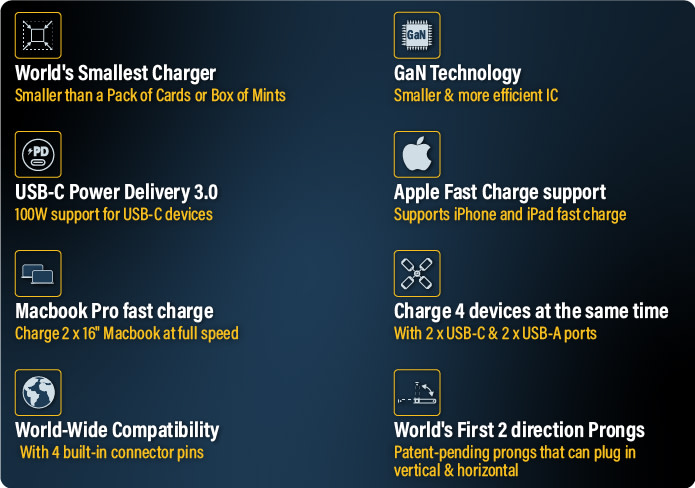 iPhone 12 20W Fast Charge Compatible
Omega Chargers have the latest IC software that ensures it can support all iPhone 12's 20w fast charge speeds. Please note any chargers from all brands released prior will not be fast-charge compatible.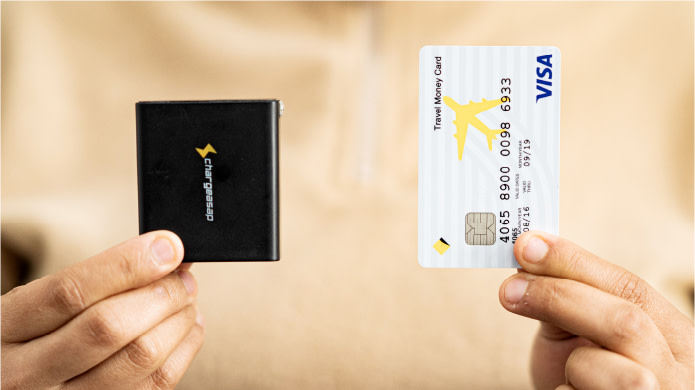 Omega Charger also comes in a 100W version which is the world's smallest 100W GaN charger similar to a box of Eclipse mints and even smaller than a credit card. With a host of improvements over 1st generation GaN Chargers, 100W Omega is truly a standout in being the world's first 2nd generation charger with graphene membrane for heat dissipation.

With 200W of power, there's always more than enough power to share around with 4 ports: 2 x USB-C Power Delivery 3.0 and 2 x USB-A (supporting QC3.0, AFC, VOOC, SCP & FCP).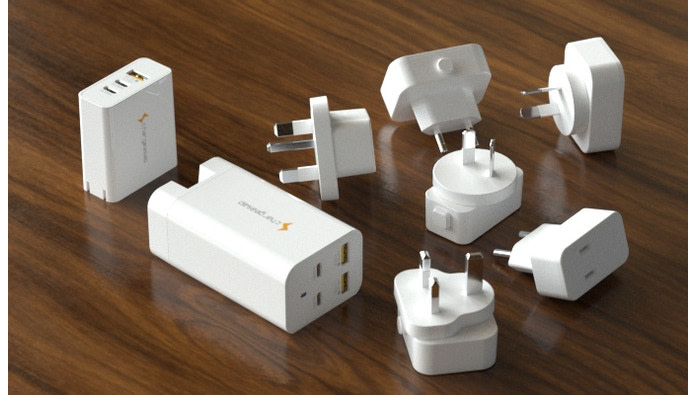 Matching worldwide travel adapters available in matching charger colours. These are specially designed travel adapters with a very secure unique locking mechanism. This meansyou can use the plugs on ANY US 2-pront plug from any device- giving you perfect convenience so you never have to bring travel adapters for any of your US devices.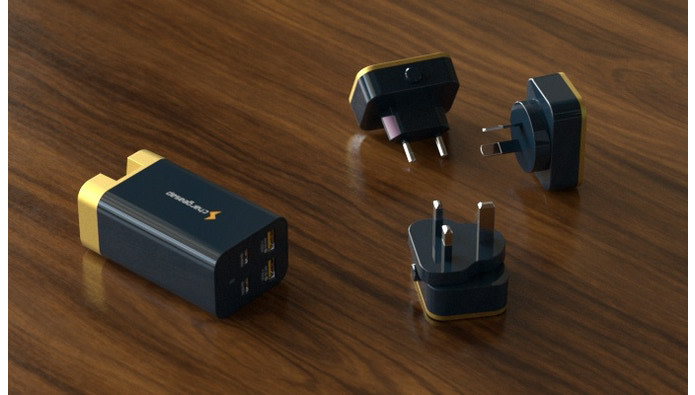 Both 200W and 100W Omega Charger supports 100V - 240V worldwide universal voltage and comes included with 3 plug converters (AU/EU/UK) so that you can use it in 200+ countries worldwide. Please note the adapters can be interchanged between the 200W and 100W models though due to different shapes, it will stick out a little.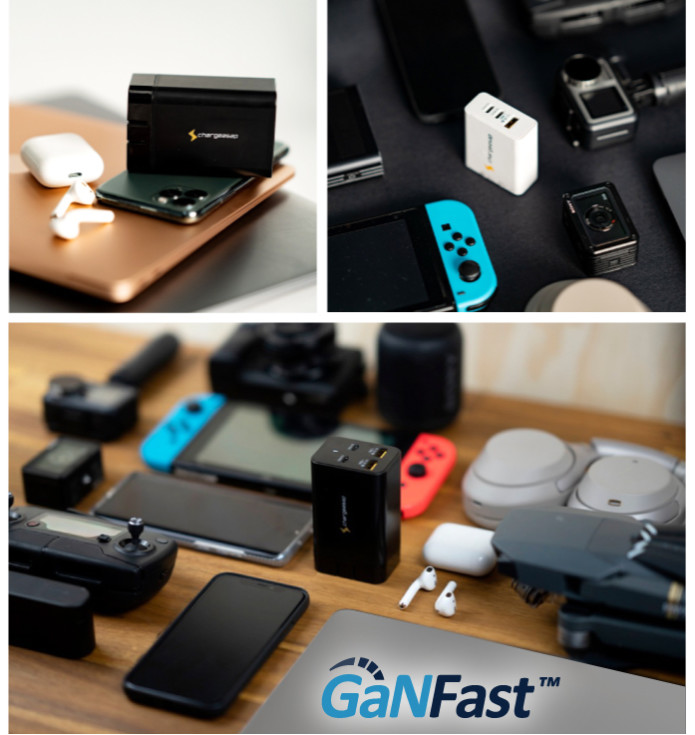 The portability and high power means you will never need another charger for USB charging needs.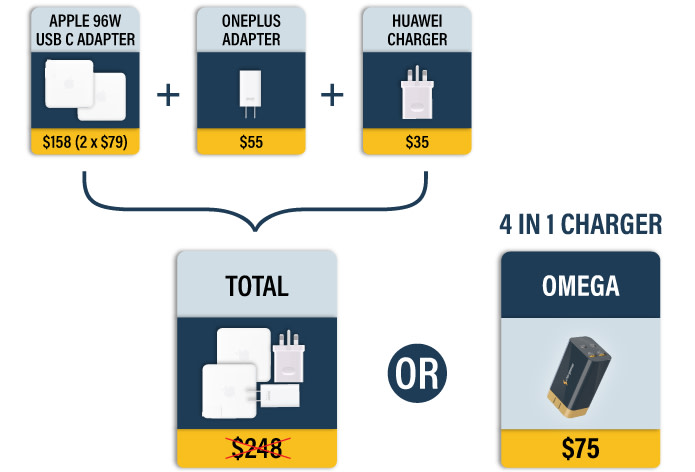 A world's first 200W portable charger provides the ability to quick charge a laptop (16" MacBook Pro), a tablet (iPad Pro), smartphone (iPhone), and mobile device (AirPods, Watch) all at the same time.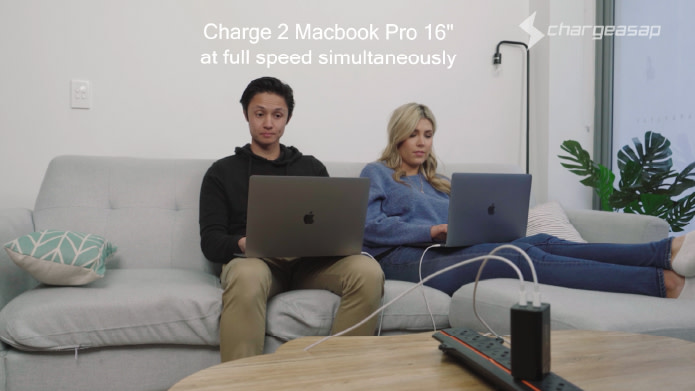 With 2 x 100W USB-C Power Delivery 3.0 PPS ports, a single 200W Omega charger can power 2 laptops (16" MacBook Pro) simultaneously, and at full speed. This is a gamechanger in charger technology, making it the first portable charger in the world to output 200W.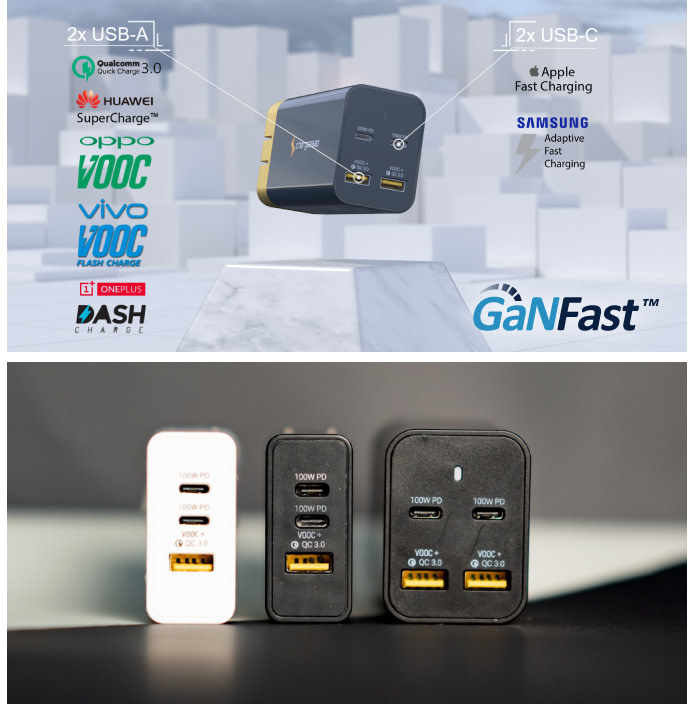 Omega Charger USB-A ports are compatible with a wide range of devices that support Quick Charge 3.0, AFC, VOOC, SCP, FCP almost all major fast charging protocols in the market from all major brands including Samsung, Huawei, Oppo, Vivo and Oneplus up to 22.5W.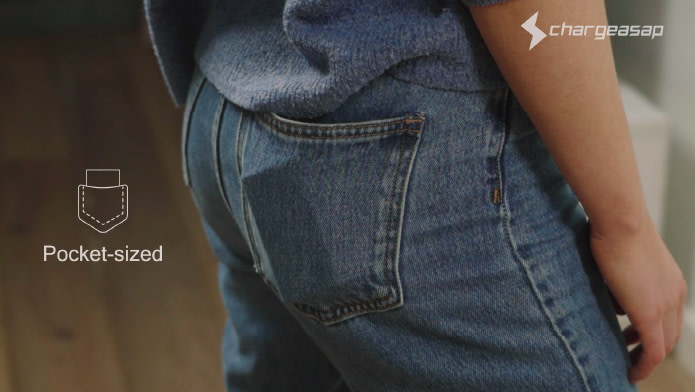 At only 220g (0.49lb), you can easily fit 200W Omega Charger into any pocket and bring it with you wherever you go.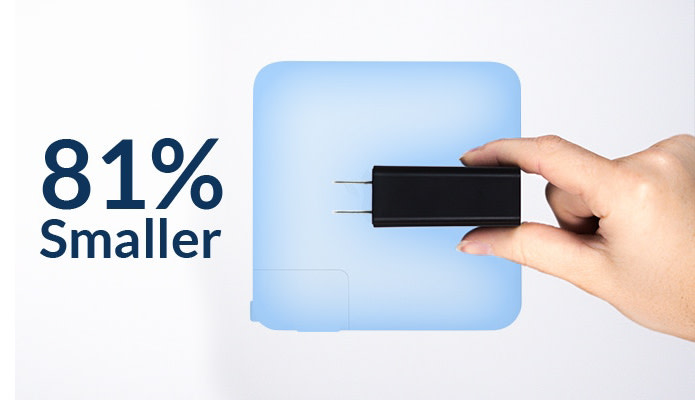 The 100W Omega is even smaller and lighter at 120g (0.26lb) at 81% less volume than a 100W Apple charger, giving you unrivalled portability.

200W Omega charger is the world's first charger to features our patent-pending 2-way foldable prongs which can be adjusted at a 90° or 180° angle allowing you to fit Omega charger into any tough to fit wall plug whether its a floor or wall plug.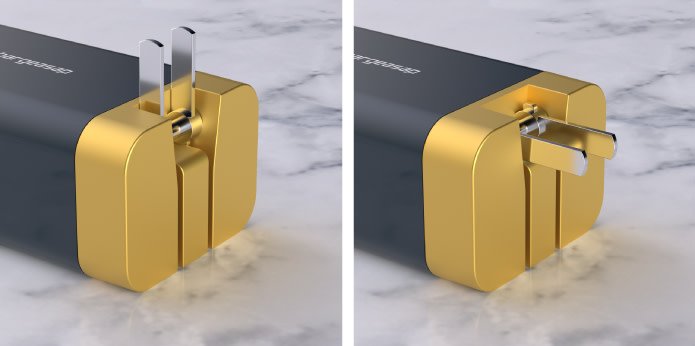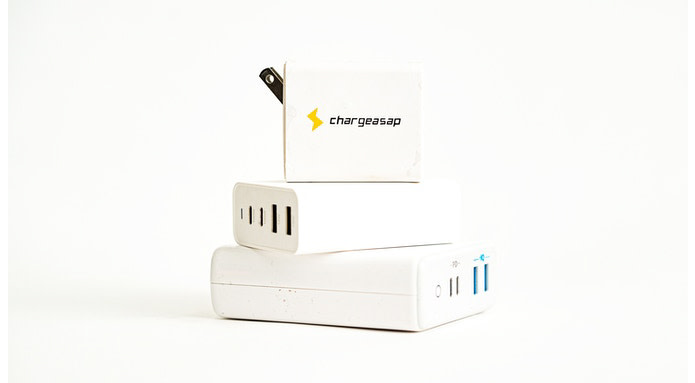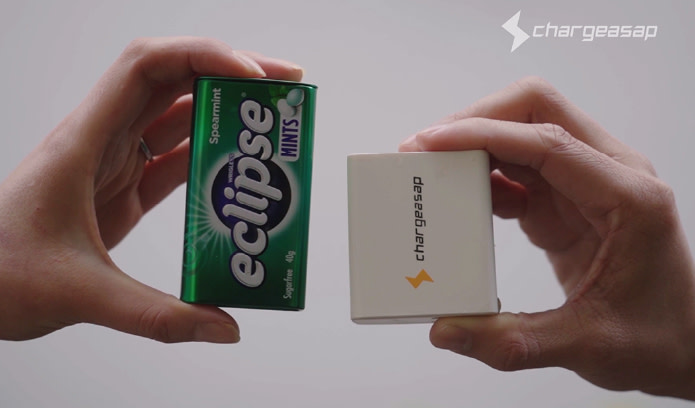 The 100W Omega is so small its smaller than a credit card and comparable to a pack of Eclipse mints. The perfect portable charger for work, home and travel.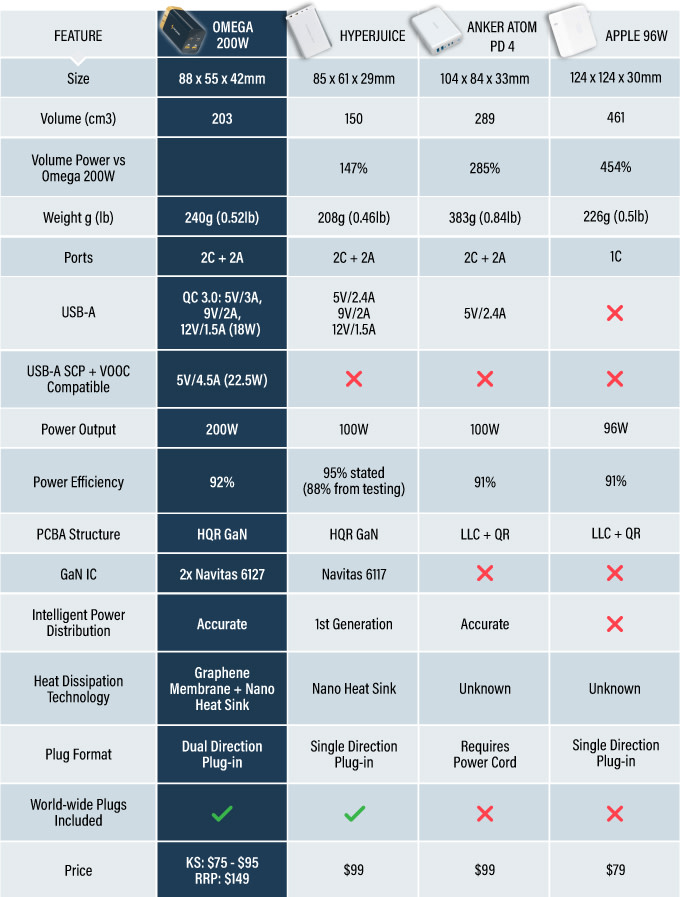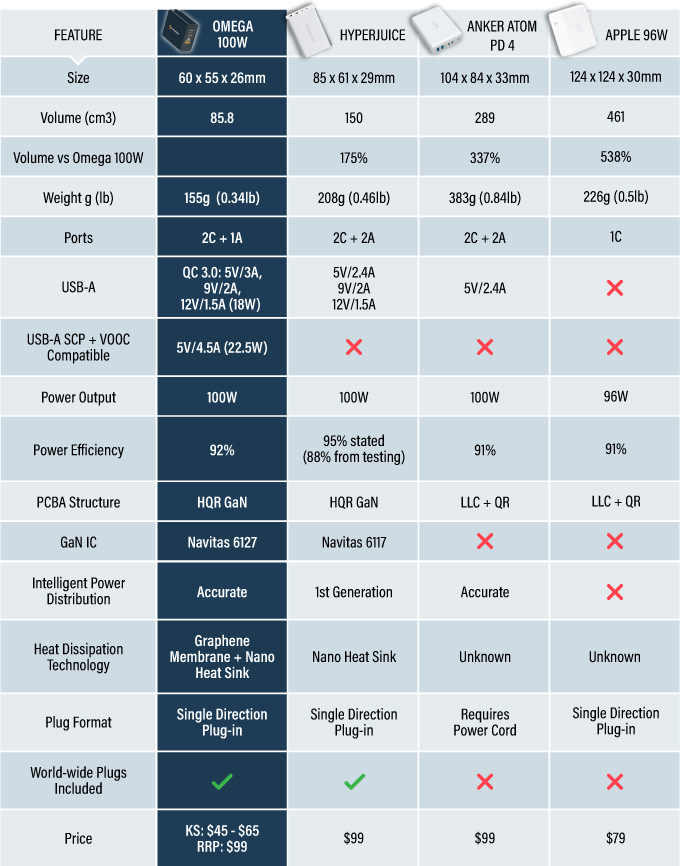 Omega is a big leap for the world of GaN chargers. With improved features including the latest Navitas GaN power IC, graphene membrane and accurate power distribution, the Omega Chargers are proud to be a pioneer in being the world's first second generation GaN chargers solving issues found commonly in first generation GaN chargers.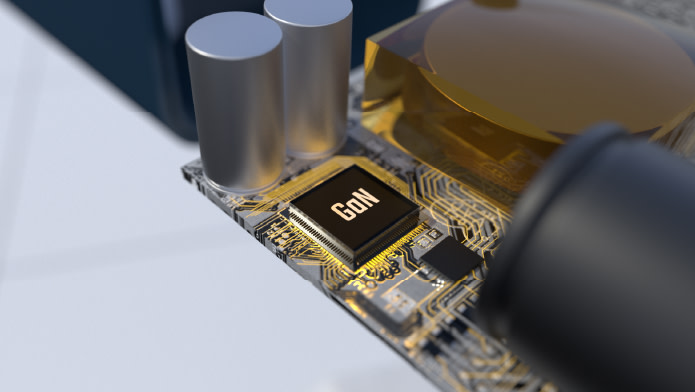 To optimize GaN for high speed, high efficiency and high reliability, Navitas created GaNFast power ICs. Here, the GaN power switch (FET) is carefully, monolithically integrated with GaN logic and GaN analog circuits on a single GaN chip to form a true GaN power IC. These 'digital-in power-out' building blocks - known as GaNFast™ power ICs – deliver robust, high-efficiency performance up to 2 MHz.
The 200W Omega is the first portable charger in the world to feature not one but two GaNFast NV6127s - designed by Navitas in Los Angeles, California - enabling the 200W power to be reached with minimal heat and maximum efficiency.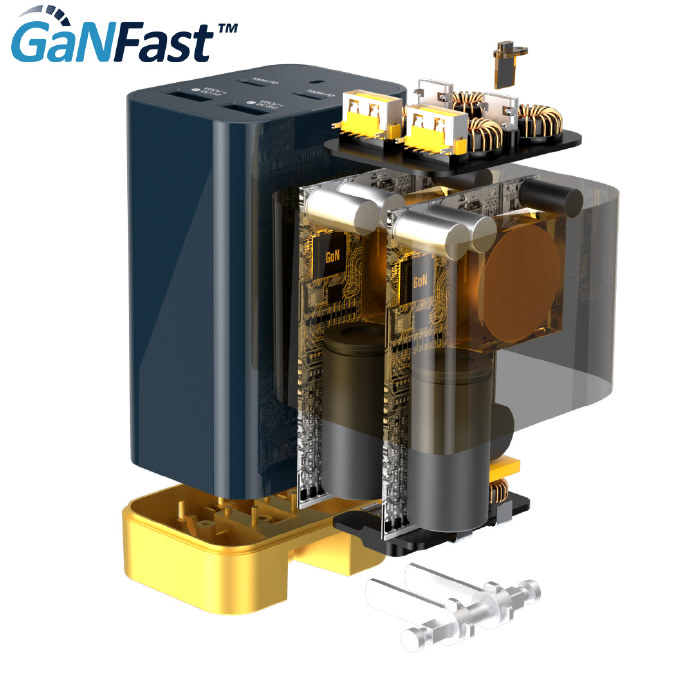 This feature is combined with a high density nano heat sink commonly found in 1st generation GaN chargers which together ensure true heat dissipation particularly when used with high wattage devices.

The industry standard for charger maximum temperature is 130ºC internally and 65ºC externally. Both 100W Omega and 200W Omega will remain below 110ºC internally and 60ºC externally due to superior components include a more advanced GaN IC and the inclusion of a graphene membrane ribbon sheet.

200W Power Distribution
C1 or C2 = 100W
C1 + C2 = 100W + 100W
C1+ A1 + A2 = 100W + 12w + 12W
C1+ C2 + A1 = 65W + 100W + 22.5W
C1+ C2+ A2 = 65W + 100W + 22.5W
C1+ A2 or C2+ A1 = 100W + 22.5W
C1+ A1 or C2+ A2 = 65W + 22.5W
A1+ A2 = 12W + 12W
A1 or A2 = 22.5W
4 ports used simultaneously: 100W+ 65W + 12W +12W
Our 200W Omega has a laptop-first power distribution which means the C2 port will also be prioritised at 100W to ensure your laptop will always charge as fast as possible and not be interrupted by devices being plugged or unplugged.
100W Power Distribution
C1 or C2: 100W
C1 + C2: 65W + 30W
C1 + A1: 65W + 22.5W
C2 + A1: 12W + 12W
A1: 22.5W
When 3 ports used simultaneously: 65W + 12W + 12W
Fast Recalibration
One of the shortfalls of current GaN chargers is a long recalibration time. This means when there is a device plugged into 1 USB-C port and you plug in another port it will not work for a few seconds.
100W Omega has a recalibration time of 0.5sec across all ports.
200W Omega has 0 recalibration time between C1 and C2 and 0.5sec for the A ports.
This is vs Hyperjuice which from our testing has a recalibration time of 3sec as it uses 1 circuit for all the ports rather than dedicated circuits for each USB-C port.


In order to achieve international certification for safe use, all chargers are put through a number of rigorous industrial tests to ensure Omega can withstand daily use.
1 Year International Warranty
With over 130,000 orders shipping, Chargesap is a well known and trusted brand in the crowdfunding and consumer electronics category. All our products are protected by our 1 year warranty giving you peace of mind with your early support.

200W Omega Specifications
Product Dimensions: 88 x 55 x 42mm / 3.46" x 2.17" x 1.65"
Product Weight: 240g / 0.52lb / 8.46oz
Power Input: 100-240V ~ 50-60Hz 3A
Max Power Output: 100W
Ports: 2 x USB-C and 2 x USB-A
USB-C1: 5V⎓3A, 9V⎓3A, 12V⎓3A, 15V⎓3A, 20V⎓5A (PPS): 3.3-21V⎓3A Power Delivery 3.0 (100W)
USB-C2: 5V⎓3A, 9V⎓3A, 12V⎓3A, 15V⎓3A, 20V⎓5A (PPS): 3.3-21V⎓3A Power Delivery 3.0 (100W)
USB-A1: Quick Charge 3.0: 5V⎓3A, 9V⎓2A, 12V⎓1.5A (18W) SCP, VOOC: 5V⎓4.5A (22.5W)
USB-A2: Quick Charge 3.0: 5V⎓3A, 9V⎓2A, 12V⎓1.5A (18W) SCP, VOOC: 5V⎓4.5A (22.5W)
Device Operating Temperature: -10ºC to 60ºC
Enclosure: PC + ABS
Protection: Over-current, Over-voltage, Over-temperature, Short-circuit Protection
100W Omega Specifications
Product Dimensions: 60 x 55 x 26mm / 2.36" x 2.17" x 1.02"
Product Weight: 155g / 0.34lb / 5.46oz
Power Input: 100-240V ~ 50-60Hz 1.5A
Max Power Output: 100W
Ports: 2 x USB-C and 1 x USB-A
USB-C1: 5V⎓3A, 9V⎓3A, 12V⎓3A, 15V⎓3A, 20V⎓5A (PPS): 3.3-21V⎓3A Power Delivery 3.0 (100W)
USB-C2: 5V⎓3A, 9V⎓3A, 12V⎓3A, 15V⎓3A, 20V⎓5A (PPS): 3.3-21V⎓3A Power Delivery 3.0 (100W)
USB-A1: Quick Charge 3.0: 5V⎓3A, 9V⎓2A, 12V⎓1.5A (18W), SCP, VOOC: 5V⎓4.5A (22.5W)
Device Operating Temperature: -10ºC to 60ºC
Enclosure: PC + ABS
Protection: Over-current, Over-voltage, Over-temperature, Short-circuit Protection