G6: 61W Travel Adapter with GaN (Detailed)
World's smallest 61W PPS Travel Adapter | Charging 4 Devices at the same time | Auto-resetting Fuse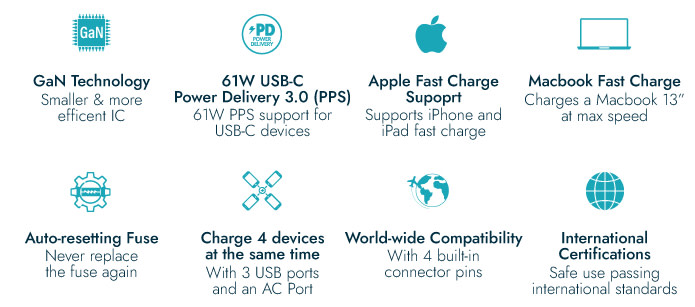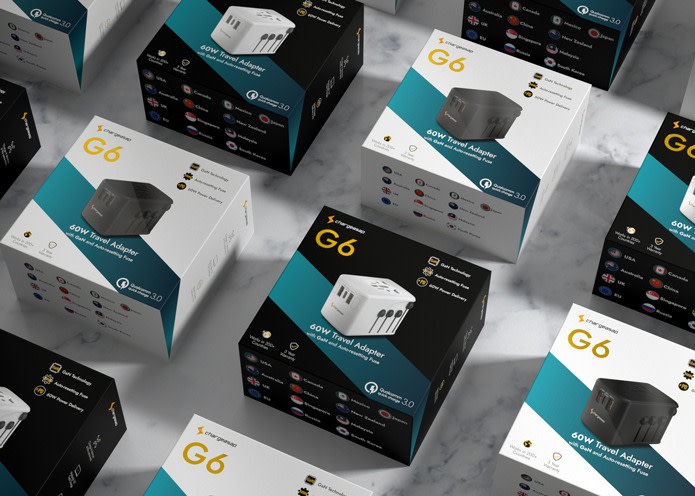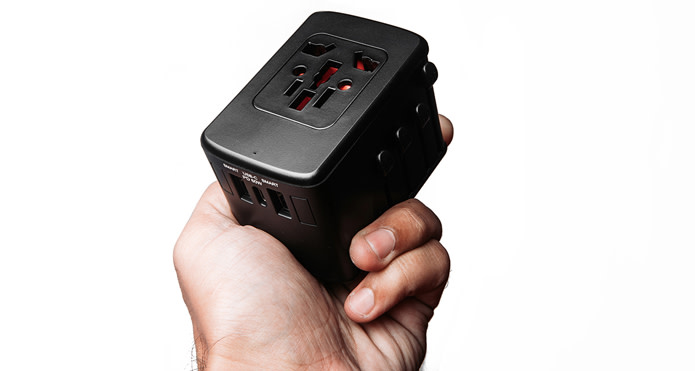 Travelling should be hassle free, but it's never easy when you have to worry about having chargers for all your devices and bringing multiple travel adapters for them. Just going out for a business meeting in a foreign country will mean carrying your laptop charger, phone charger and travel adapter. Imagine being able to bring just 1 charger to charge your Macbook, iPad and iPhone almost ANYWHERE in the world.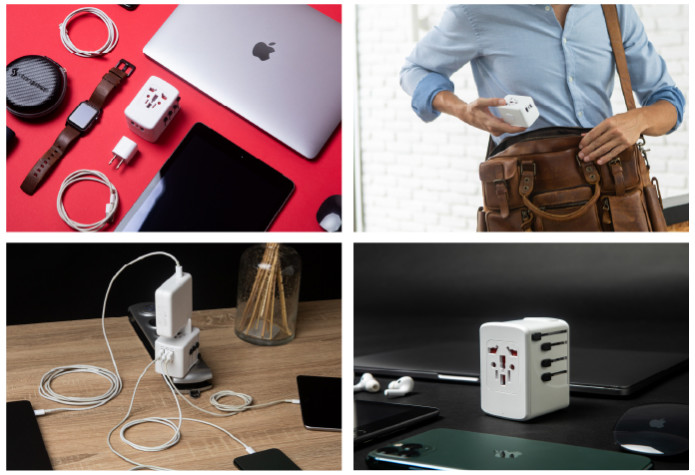 G6 features an USB-C 61W Power Delivery 3.0 port (PPS), 2 USB A ports, power adapter, universal travel adapter and auto-resetting fuse all packed into a pocket-sized adapter. Finally an all-in-one adapter that can replace the hassle of worrying about bringing all your other chargers around the world.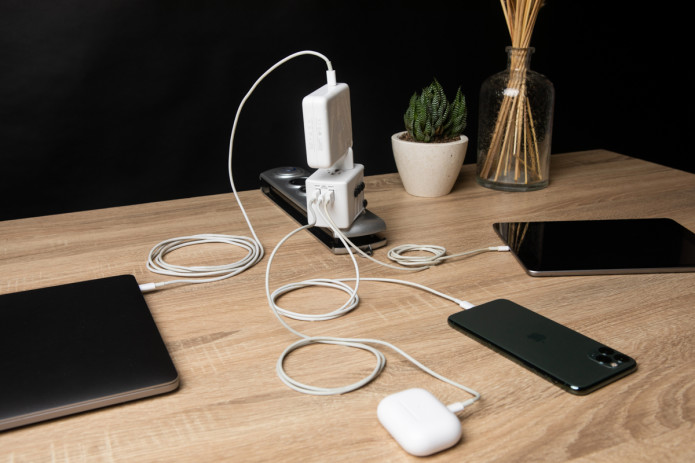 Travelling should be seamless and easy but in order to stay connected in today's world it's a hassle to pack chargers for your USB devices including your laptop, phone, travel adapters and still manage to fit in your other belongings. Smaller travel adapters can only support 2 or 3 devices at a time and at low charge speeds. G6 has a USB-C (PPS) port, 2 USB-A ports, and a 4 pin multi-region AC output, charging up to 4 devices simultaneously.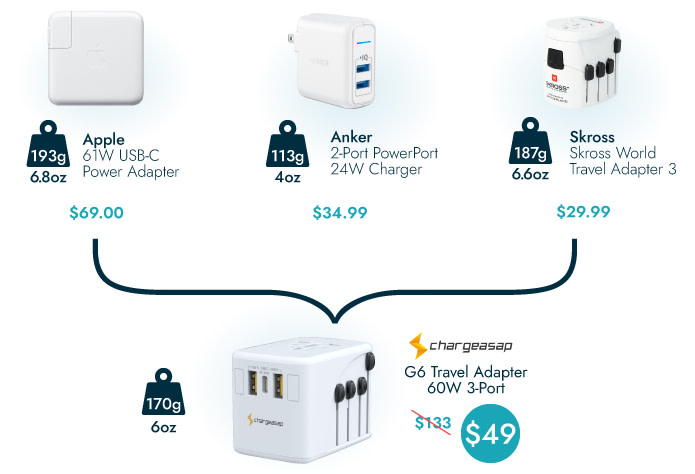 With the high-power requirements of today's devices, anything less than 30W is barely going to charge your devices. Our innovative 61W USB-C Power Delivery 3.0 (PPS) output sets a new standard for travel adapters allowing you to charge high-powered devices at the full USB-C speed including 13" Macbook Pro and Macbook Air.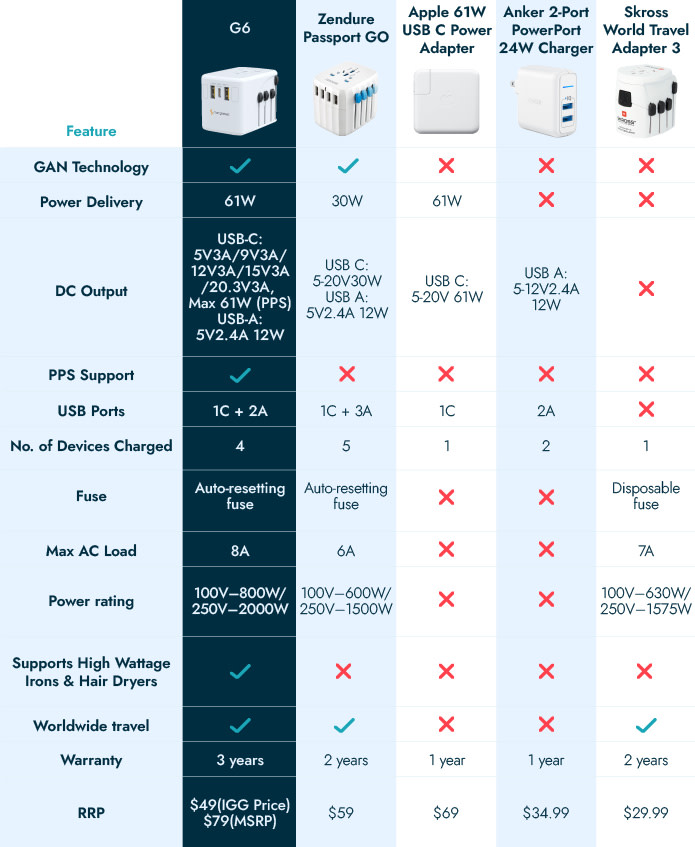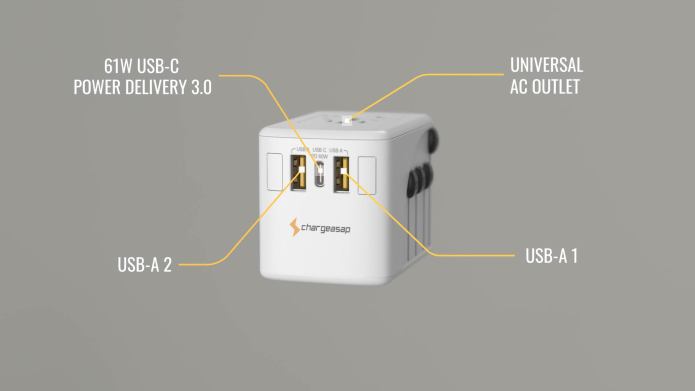 USB-C is the new standard for powering and charging all USB-C devices including phones, tablets and laptops with Power Delivery 3.0 being the latest innovation. G6 features a 61W USB-C Power Deliver 3.0 (PPS) port meaning G6 has no limits with compatibility, allowing fast charging for your USB-C devices, including phones, laptops, tablets, speakers, cameras, headphones, Nintendo Switches and even drones.
Keep your iPhone battery charged up with 18W maximum charge speed support from G6 going from 0% - 50% in only 30 minutes.
Our USB-C port also support Qualcomm Quick Charge 2.0 & 3.0 enabled devices. Convenient for Android users who are use to the fast charging speeds offered by QC 2.0/3.0.

G6 is designed with compatibility in mind so we have upgraded all our G6 units to support 61W PD 3.0 programmable power supply (PPS) from the main USB-C port.
In 2017, the USB-IF Association added Programmable Power Supply (PPS) to the USB PD 3.0 standard, hoping to unify specification for today's fast charging solutions. The PPS standard refers to the power supply can exchange data with the power supply every ten seconds, so that the power supply can dynamically adjust the output voltage and current according to the condition of the receiving product specifications. The voltage range is between 3~21V, with 20mV increments. This means G6 can charge all USB-C laptops that follow the PD2.0 or PD3.0 standard including brands such as Dell, HP, Asus, Lenovo, Acer, Sony and more.

In 2017, Qualcomm's QC4.0 complied with PPS standards, reaching a unified charging scheme. PPS support also means that QC4.0 devices will be charge at full speed so you can get going faster.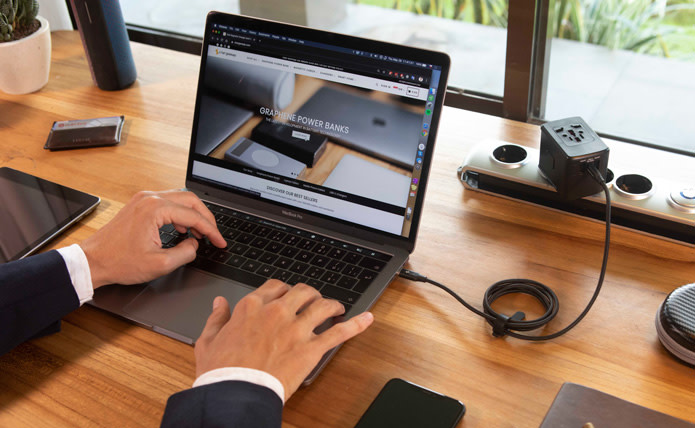 G6 is the first travel adapter in the world that supports 13" Macbook's 61W charging protocol requirements. Competitors at most can only support 30W with many brands claiming 30 - 45W total but only 18W from the USB-C port which is barely enough to power the Macbook.

Most generic travel adapters on the market only support 6A which equates to 600W @ 100V or 1500W @ 250V depending where in the world you're using the adapter. This means common high wattage devices such as irons, hair dryers, microwaves, mini-ovens, toasters, heaters and air conditioners won't be supported. G6 solves this problem with a superior 8A fuse which equates to 800W @ 100V or 2,000W @ 250V supporting a larger range of high-wattage devices. It is not recommended to plug a grounding plug into a non-grounding travel adapter like G6.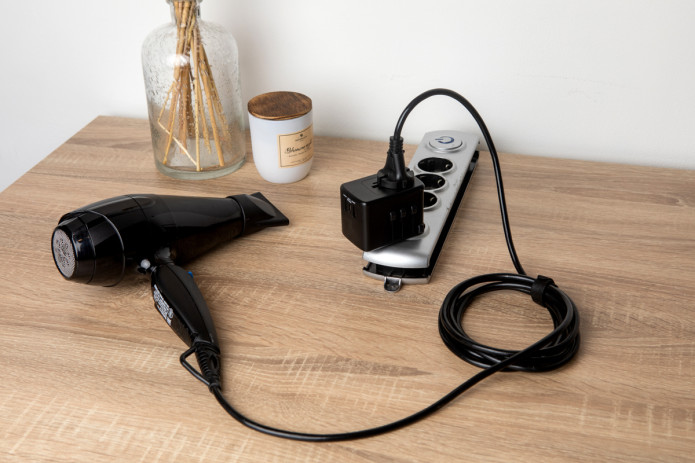 Supports Charging the Flash Powerbank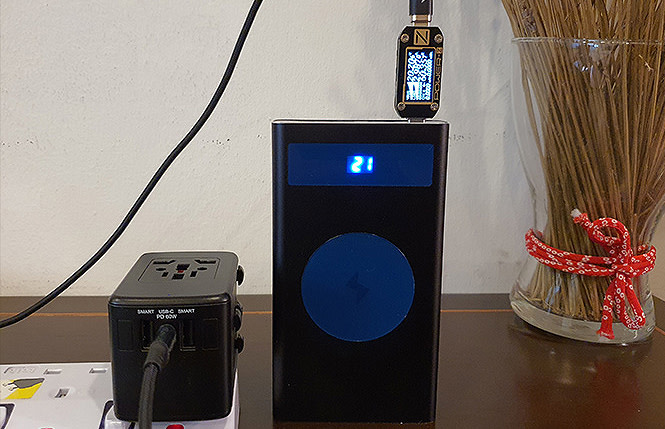 Great news for existing Flash user: G6 is compatible with our Flash graphene 20,000mAh powerbanks charging at 61W meaning you can go from 0 - 100% within 100 minutes. Travel hassle free with just 1 adapter for all your devices in 200+ countries.

One of the most annoying things that happen when travelling is when you blow a fuse forcing you to go out and find a new fuse, which can be difficult in new cities, especially if it happens during off-work hours when shops are closed. G6 features an innovative auto-resetting fuse that disconnects the power when there is a current overload and re-connects back a minute later. This means your devices will stay protected from any surges time and time again. The auto-resetting fuse is tested to withstand 15,000 resets so you can be assured that it will outlast your lifetime of use.

It can be very frustrating needing different adapters for different countries with many cheaper adapters coming in multiple pieces that you have to keep connecting and disconnecting. These pieces often get lost or are very flimsy and break easily. We've designed a travel adapter that is convenient and easy to use with a simple 1-hand easy press of the side button that you slide out for the pin of your choice.
G6 conveniently works in over 200 countries supporting all the major types of wall plugs used worldwide. Here's a chart showing the major plug types that G6 is compatible with including: A, B, C, E, F G I, J, K, L & N.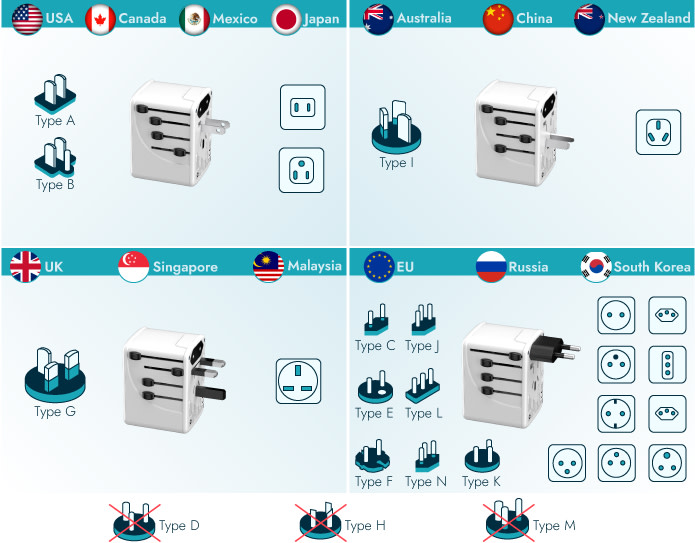 Chargeasap is able to deliver 61W of power through incorporating a Pi Innovo GaN internal circuit (IC) which allows a USB-C PD 3.0 (PPS) port in a compact size. Gallium Nitride (GaN) is a semiconductor material that replaces traditional silicon-based power adapters allowing higher efficiency, less heat and the ability to handle a higher current. GaN IC's are over 10 times smaller than traditional IC's a major advancement in the electronics field.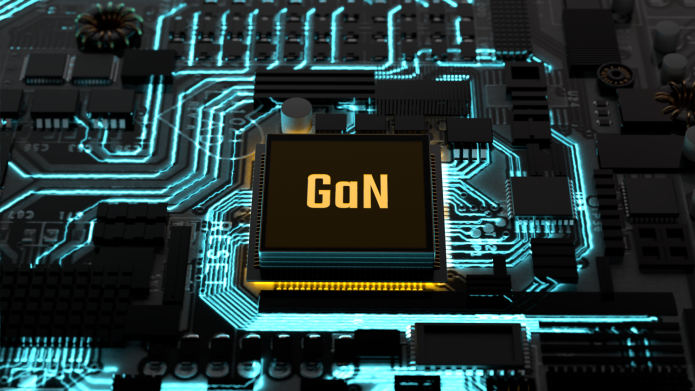 Each G6 travel adapter contains a Pi Innovo SC1933C chip. Pi Innovo is 1 of the 3 largest GaN IC manufacturers worldwide.

Providing a high powered 61W USB-C output inside a small form factor is a challenging feat to overcome. We've ensured not to compromise on functionality or design to create an aesthetically pleasing device that you would be proud to carry around and show off. In creating the world's first 61W travel adapter to ensure your high powered laptops can charge quickly, we limited the final design to 2 USB A ports that output 5V/2.4A.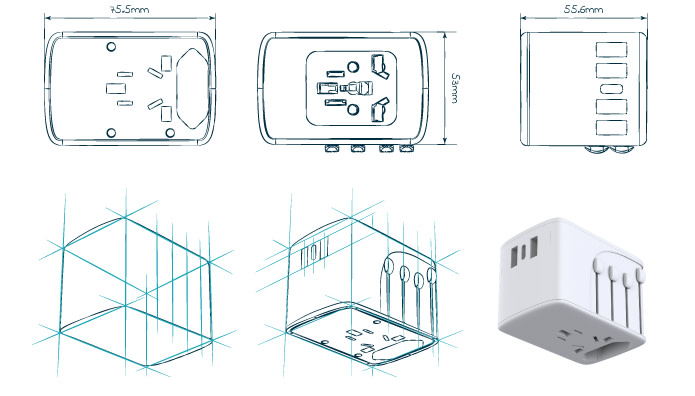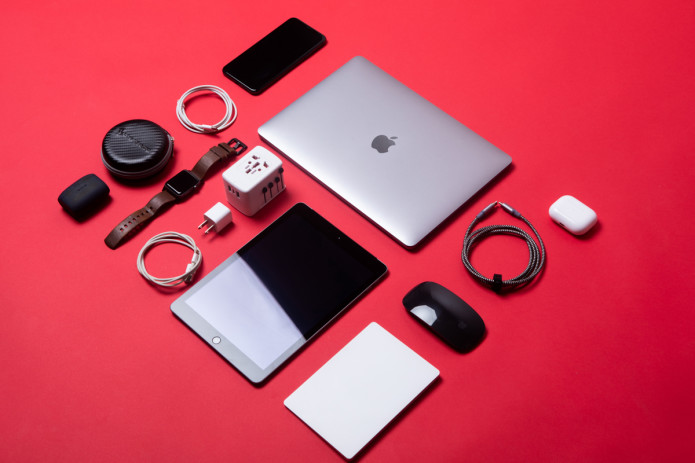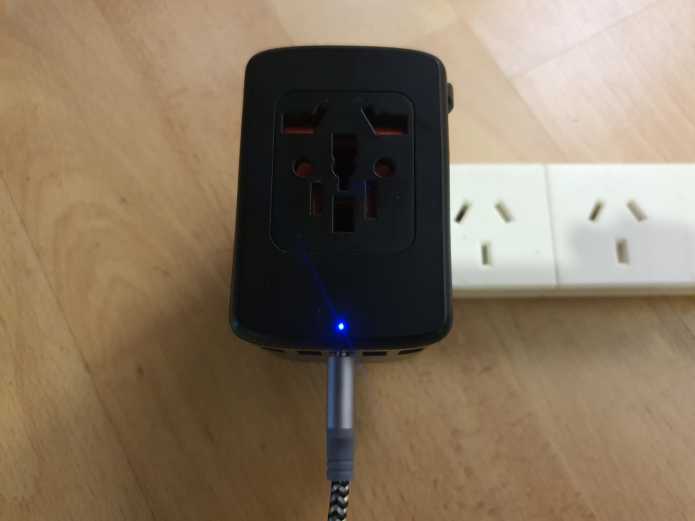 Designed with convenience in mind, a small blue LED indicator will turn on to indicate the power is connected so you can find the ports even in the dark.



In order to achieve international certification for safe use, each G6 unit is put through a number of rigorous industrial tests to ensure G6 can withstand daily use- even the most extreme of circumstances. Giving you comfort and peace of mind regardless of where you travel.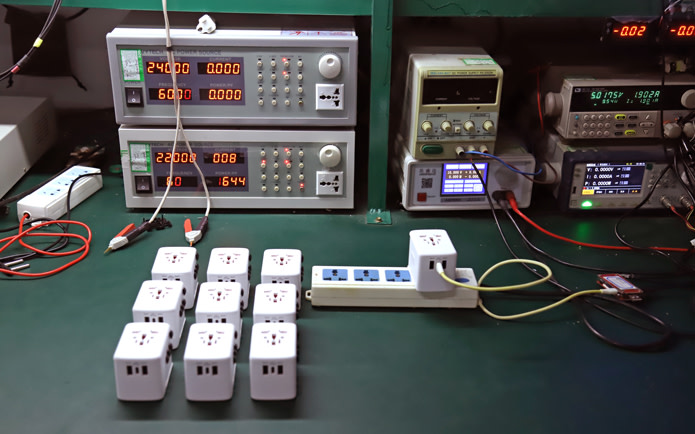 G6 is protected with a 3 year hassle-free international warranty. If you encounter any issues, just email our Customer Happiness Team on help@chargeasap.com and you will receive a response within 24 hrs to complete an assessment form. If we're unable to resolve the issue we'll send off a brand new unit over to you.

Input plugs: Switzerland, Italy, Brazil, UK, USA/Japan, Australia/China, Europe (Schuko & 2-pole Euro)
Output plugs: USA, UK, Australia/China, Europe (Schuko)
Input: 100 V - 250 V, 50/60Hz
Maximum Load: 8A
Power rating: 100V – 800W / 250V – 2,000W
Fuse: Auto-resetting
Interface:
1 x USB-C Output: 5V3A/9V3A/12V3A/15V3A/20.3V3A, Max 61W (PPS) & QC 3.0, 18W Max
2 x USB-A Output: 5V2.4A, Max 12W
Maximum USB Total Output: 61W
Average active efficiency: 90.99%
Efficiency at low load (10 %): 86.89%
No-load power consumption: 0.03W
Device Operating Temperature: -20℃ - 40℃
Safety Protection: overvoltage/overcurrent/overcharge/undervoltage/short circuit/temperature protection
Enclosure: Polybutylene Terephthalate
Dimensions: 53mm x 75.5mm x 55.6mm (2.1" x 3" x 2.2")
Weight: 170g (6oz)
Weight with packaging: 220g (7.8oz)
Warranty: 3 years