All the features of our Infinity Cable: 100W PD USB-C Magnetic Cable (Detailed)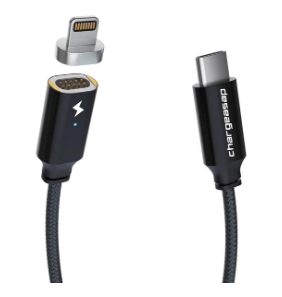 The world's first cable to support 100W USB-C PD and be cross-device compatible with all 3 major USB types making it the world's first truly universal USB cable compatible with all phones, tablets and USB-C PD devices including laptops.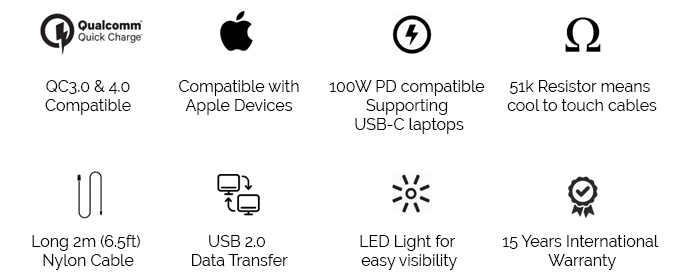 We've spent the last 4 years redesigning the USB cable to finally create one powerful enough to work with all USB devices supporting micro USB, Apple, USB-C as well as the biggest device in your arsenal, USB-C laptops. Not only can the Infinity Cable support QC 3.0 & 4.0, but for the first time ever, it can support Power Delivery charging up to 100W.

Each Infinity cable set features 2x N54 grade neodymium magnets which are the world's strongest commercial grade magnets. We really mean it when we say we're using the world's strongest magnets. They're even strong enough to hold an iPad Air which is 437g (0.96lb)! These are the same magnets that have been sold to over 100,000 customers since 2016 so the unparalleled quality and durability of them sets us apart from other brands.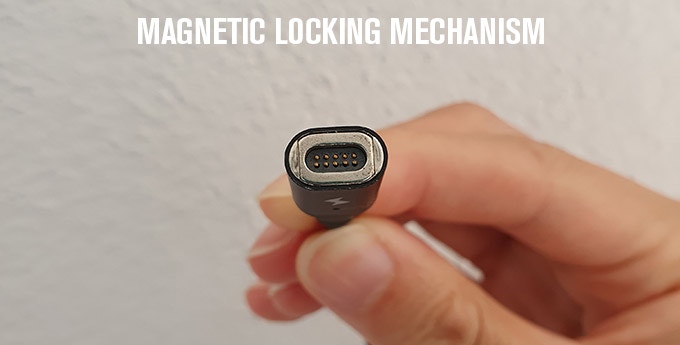 Since the inception of our UNO cable, we have upgraded the magnetic strength of our new cables which includes Infinity cable. This is through incorporating an innovative locking mechanism, giving your cable a stronger connection and longer lifespan. This stronger magnetic strength means it can support a longer cable. Each cable set comes with a 1.2m (3.9ft) cable with an optional 2m (6.5ft) and 40cm (1.3ft) cable sold separately. We've also improved the connectivity lifespan of the older cables from 30,000 to 40,000 connections. Means a longer lasting cable that will outlast all your devices.

With the invention of USB, you've been forced to carry at least 3 different cables for all your devices. But with that comes, tangled cables, compatibility issues and just a whole heap of mess our fast paced lives just don't have time for. USB Stands for Universal Serial Bus. So we thought, why not make a USB cable the way it should be- truly universal.
We're serious when we say 1 cable for your phones, tablets and USB devices. Our 3 connectors (Lightning, Micro USB & USB-C) are designed to be compatible with all your modern devices from headphones to Nintendo Switch, E-Cigs, GoPro the list is endless. What sets Infinity on a league on it's own is that is also works with USB-C laptops, and we mean ALL laptops including Macbook Air and Macbook Pro.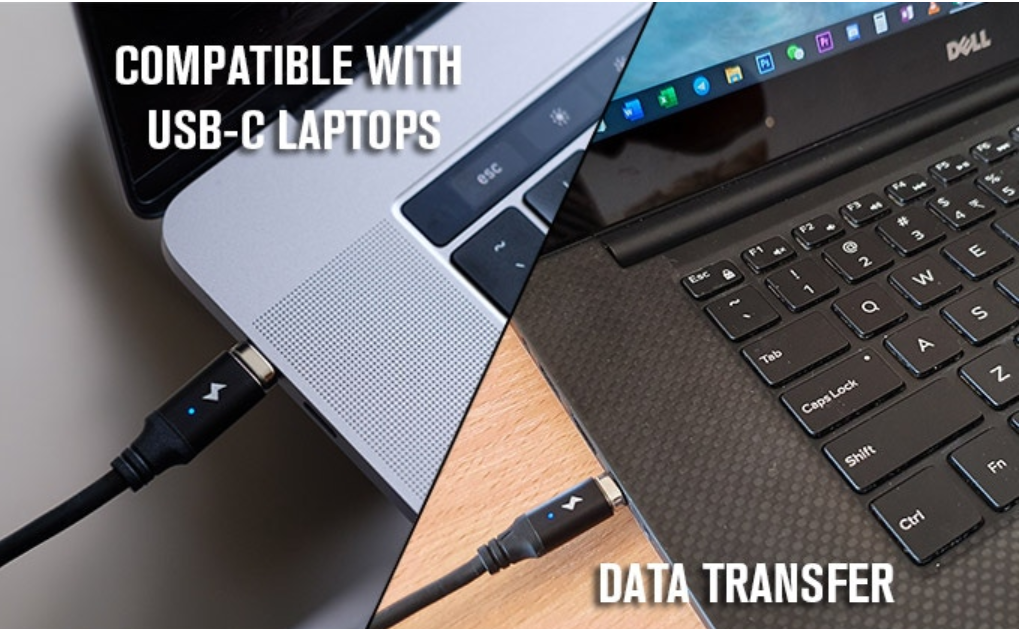 The Infinity Cable is capable of 2-way full speed USB 2.0 data transfer at 480 Mbps between any USB devices. It's also capable of 100W PD charge, something very few magnetic cables can achieve and certainly the first in the world that's also compatible with lightning and micro USB tips. You can see below that the Infinity cable is matching the same max charge speed of the original Apple cable.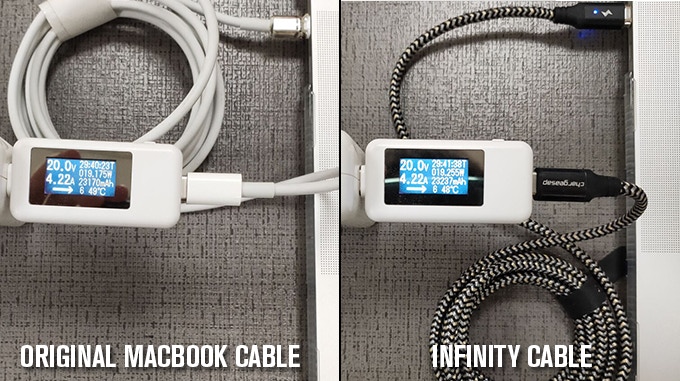 The Infinity Cable is made out of 9T which is a more temperature resistant material compared to the LCP plastic which is found on most other cables including our older asap Connect and asap X-Connect cable ranges. The end result is a cooler to touch cable, particularly during use with QC3.0, QC4.0 and PD charging. This means the cables are less likely to be worn out by heat over time.
The Infinity cable is made from quality material including military grade tangle free nylon. Thicker cables allow for extra currents, which means a faster charge. That's why we've improved the wire thickness from 22AWG (for UNO) to 18AWG for Infinity which means increasing the diameter of the cable from 3.3mm to 4mm to be able to support functionality of QC3.0 , QC4.0 as well as Power Delivery up to 100W.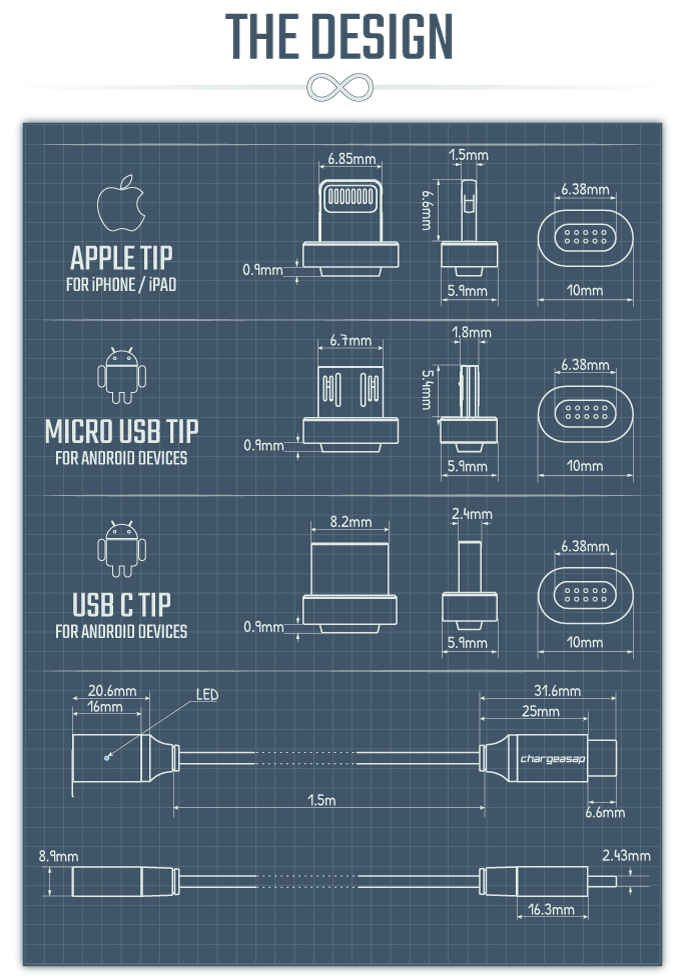 Many phone companies have started to release their own proprietary "fast charge technology" with many of their newer flagship devices. Please refer to the table above to see if your device can use third party cables to access it's special charging technology. Devices with their own proprietary charging technology are only compatible with their proprietary and official cables and not third party cables to achieve their full charge speeds. Using Infinity, the cable will still charge at the max speed possible without integrating in their proprietary charge technology.
Please note: Infinity Cable is a huge technological feat in being the world's first cable to support PD 100W and be cross-device compatible with all 3 tip types. Due to the upgraded 10 pin design, the cables are unfortunately not backwards compatible with the older 5 pin ranges (asap Connect, asap X-Connect, UNO, MAGX).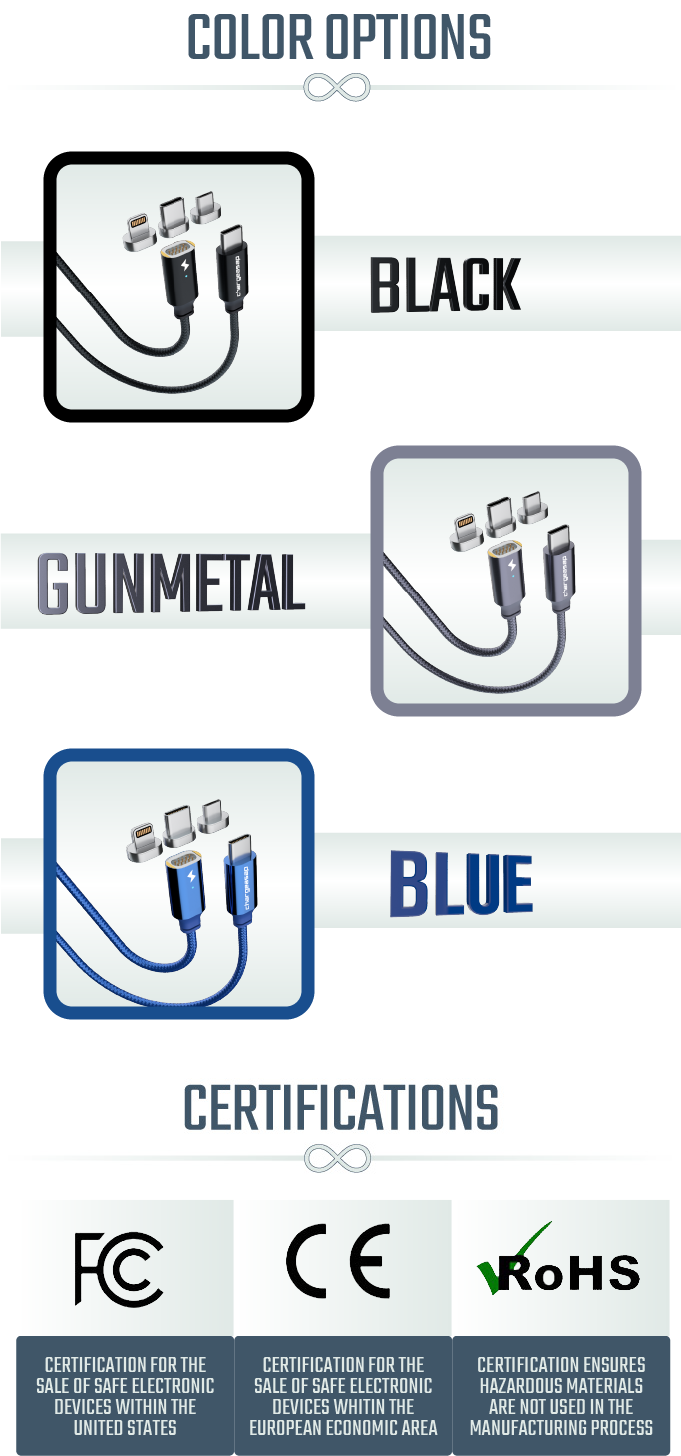 All previous Chargeasap products have been granted the following international certifications to meet quality manufacturing standards and sound environmental practices. Infinity Cable will also be applying to receive these certifications before shipping.