All the features of our X-Connect Cable: 5V/2A USB-A Magnetic Cable (Detailed)
Overview
asap X-Connect: the world's 1st magnetic USB cable that's compatible with all phones including Apple (Lightning) and Android (micro USB & USB-C.) If you live in a household where there are iPhone and Android users you've been there, fighting over who gets to keep the cable plugged in. With asap X-Connect you no longer have to fight with just 1 cable for all your USB devices. This is the world's most advanced and strongest magnetic cable, even capable of even holding up an iPad Air.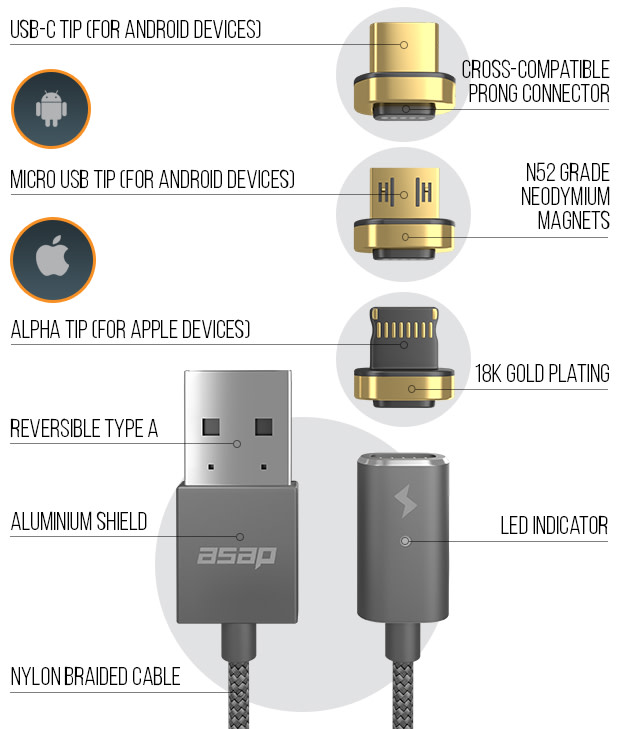 Each asap X-Connect cable features 2x N52 grade neodymium magnets which are the world's strongest commercial grade magnets. For all you oldies who still think magnets will affect your phones function, mobile phones use SSD (solid state drives) which aren't affected by small magnets like ours. In fact your phone itself has over half a dozen magnets inside it to power features such as your speakers. The magnets will also have no impact on your GPS.

When we mean 1 cable for all your phones, we mean it. We've designed 3 connectors to fit all 3 types of main connectors today for all mobile phones, tablets and USB devices.

Our cables feature a reversible magnetic connection which means instant connection every single time.

Sick and tired of flipping your cables back and forth to connect it on the right side? We were too, so we engineered asap X-Connect to have a reversible Type A (which is the side that inserts into your wall charger, laptop or power bank). This means first connection every time, no more fiddling around to connect your cable!
asap X-Connect features a reversible Type A connector that we hope to see become a standard for all USB devices one day. Check it out in action below.

An often overlooked feature of magnetic cables is that it will protect your phone port from dust and dirt entering. By leaving the tip in there, it will also extend the life of your phone port from the normal wear and tear of cables being inserted and pulled out on a daily basis.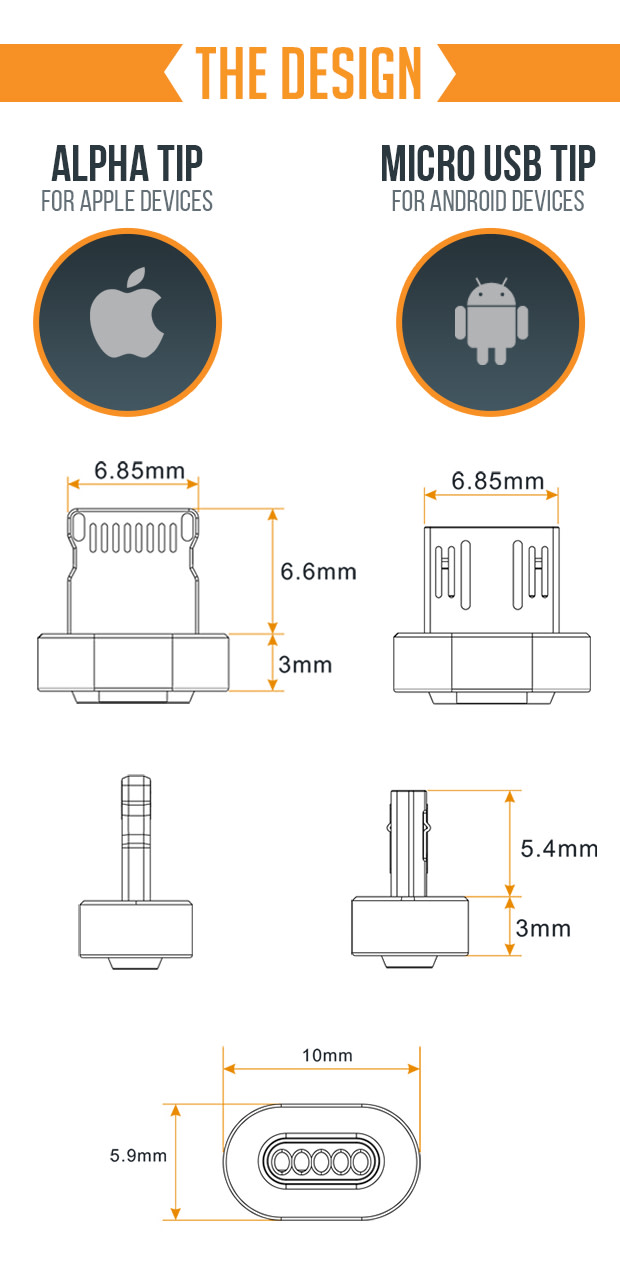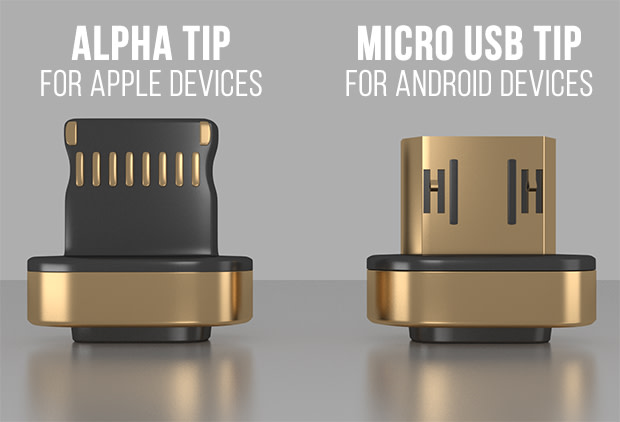 asap X-Connect features the world's strongest commercially available magnets known as N52 grade magnets. When we say we're using the world's strongest magnets, we mean it! Enough with the technical blah blah, how strong you might ask? Strong enough to hold an iPad Air which is 437g (0.96lb)!

We've tested our cables on dozens of Apple and Android phone and tablet devices with no compatibility issues. As long as you have any device that requires a Lightning connector (such as iPhone 6, iPhone 6 plus, iPad, iPad Mini etc.) a Micro USB connector (such as Android phones, mini speakers, headphones etc.) or a USB-C connector (such as Galaxy Note 7, Nexus 6P or OnePlus 2), asap X-Connect will work every time.
asap X-Connect supports data transfer, however due to the LED light creating a max voltage barrier, fast charge technology including QualComm 2.0, QualComm 3.0 and Samsung Adaptive Fast Charge will charge about 5 - 10% slower from our initial testing. This is something we are looking to overcome in our development phase. Please note that as with all cables that are longer, there is more resistance in the wires and the charge speed will decrease as the length of the cable increases.
The best feature of asap X-Connect is it's cross-device compatibility. This means you'll only need 1 cable for all phones and USB devices.
Through years of design and material testing, we've reduced the size of the ASAP Connect tip to only 10mm (0.39") wide which fits perfectly into all your Apple and Android devices. We've tested the tips on over 100 phone cases and found it fit on all of them. The only exception is for some phone cases which have a protective flap on the charging port which may not be able to close properly with the tip in place. This also the case for the Samsung S5 phone due to its inbuilt protective flap.

We have evolved the traditional Lightning tip for Apple devices to create what we call the "Alpha" tip for 2 important reasons:
REASON 1: Have you ever had your Lightning tip start wobbling and eventually break off? This happens because the tip and base are made of 2 different components which break apart over repeated use. The Alpha tip solves this problem by integrating both the tip and base into 1 piece.

Over the past 4 years we have been working closely with our manufacturer and possess both a registered design and utility patent-pending to protect our unique technology and its potential future applications. For further information regarding this please contact us via email on help@chargeasap.com.
asap X-Connect has also been granted the following international certifications: