All the features of our UNO Cable: 18W USB-C Magnetic Cable (Detailed)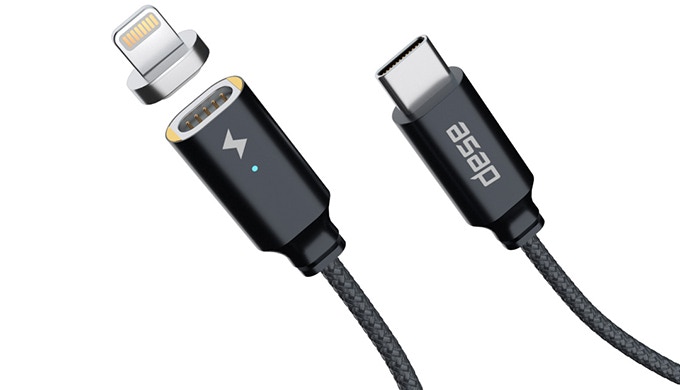 Overview
From the original creators of the cross device magnetic cable, we present our latest innovation in magnetic cables UNO: the world's first cross device magnetic cable with a USB Type- C end. Capable of QC3.0, 4.0 & data transfer, this is the only cable needed for your USB devices. This is the world's most advanced and strongest magnetic cable, even capable of even holding up an iPad Air.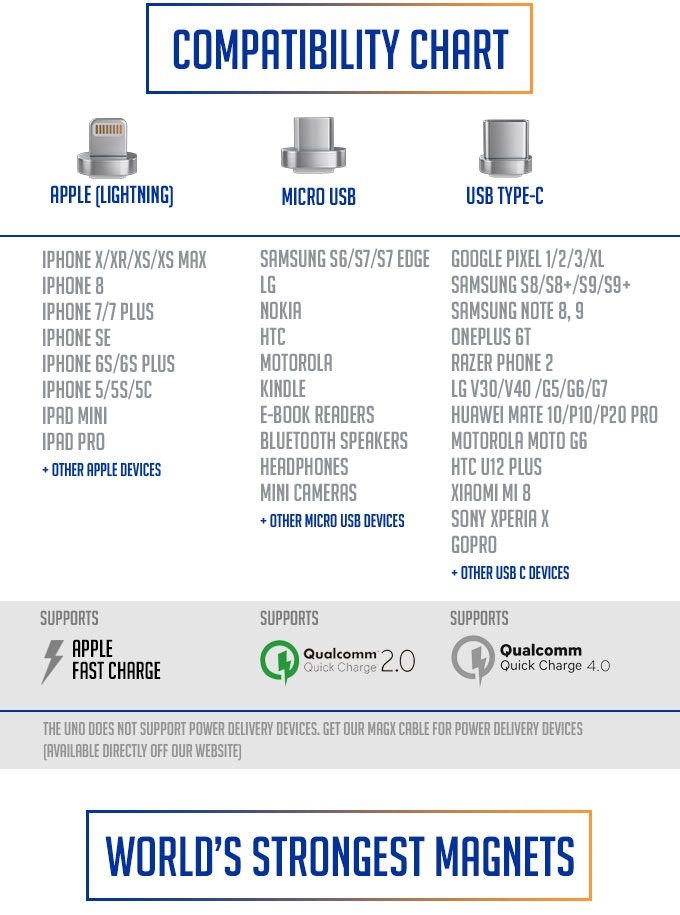 Each UNO cable set features 2x N52 grade neodymium magnets which are the world's strongest commercial grade magnets. When we say we're using the world's strongest magnets, we mean it! How strong you might ask? Strong enough to hold an iPad Air which is 437g (0.96lb)!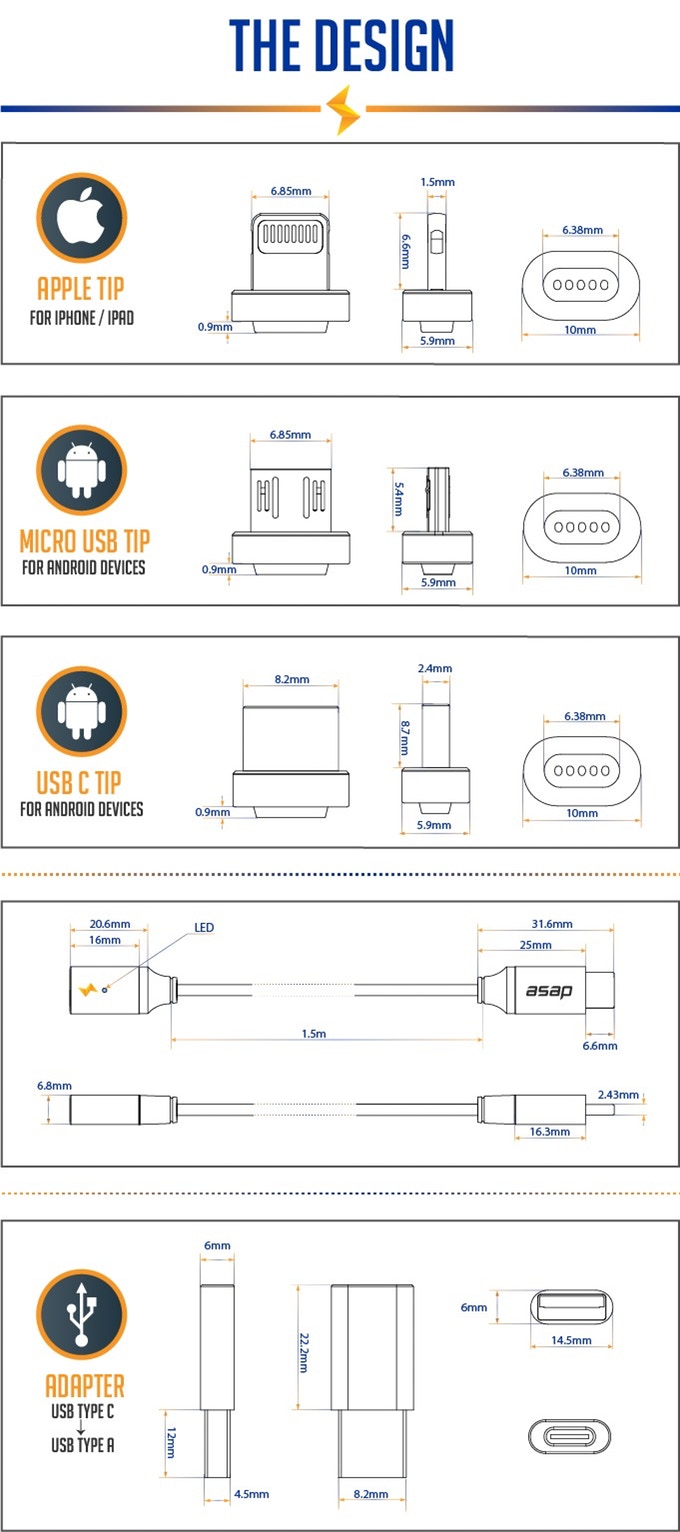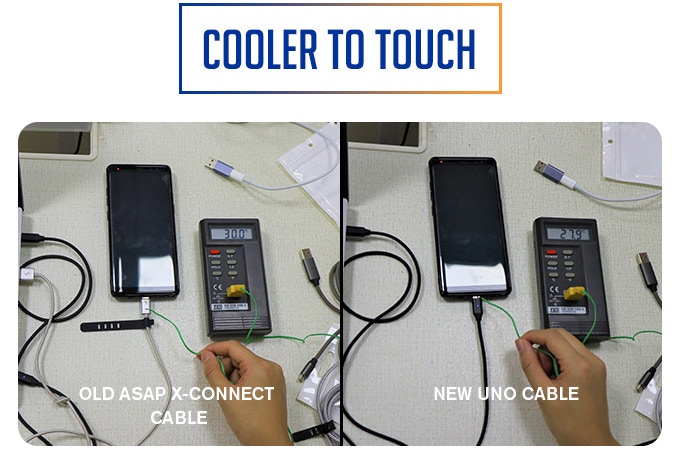 A common suggestion from customers has been reducing the temperature of the cable, we've been able to achieve this initially through a more efficient processing chip.One of the biggest challenges we've overcome is reducing the temperature of the cables whilst ensuring maximum charge speed in our compact cable design. We've been able to take the temperature reduction a step further with a revised mold design made of of 9T which is a more temperature resistant material instead of LCP plastic found on the X-Connect. The end result is a cooler to touch cable, particularly during use with QC3.0/4.0.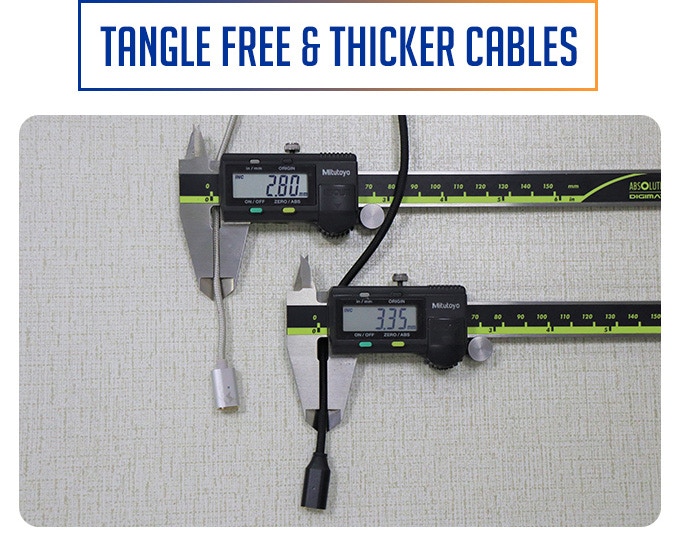 The UNO cable is made from quality material including military grade tangle free nylon. Thicker cables allow for extra currents, which means a faster charge. That's why we've increased the diameter of the cable by 20% to ensure QC2, 3 and 4.0 compatibility.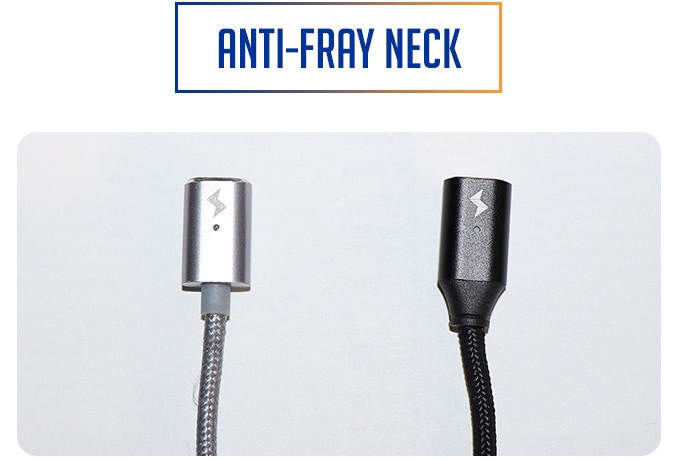 With each version of our magnetic cables we carefully listen to user feedback and back improvements where we can. The UNO cable will be the first to introduce an improved anti-fray neck, meaning your cables will have increased durability and less chance of cables fraying or snapping at the most common weak point. Above you can see a direct comparison of how thicker the UNO cable (on the right) is compared to our X-Connect range. The X-Connect range is also made of premium materials of course and doesn't have any issues. This anti-fray neck significantly increases the lifespan of the cable handling everyday wear and tear well, hence we're backing it up with our first product with a 10 year warranty.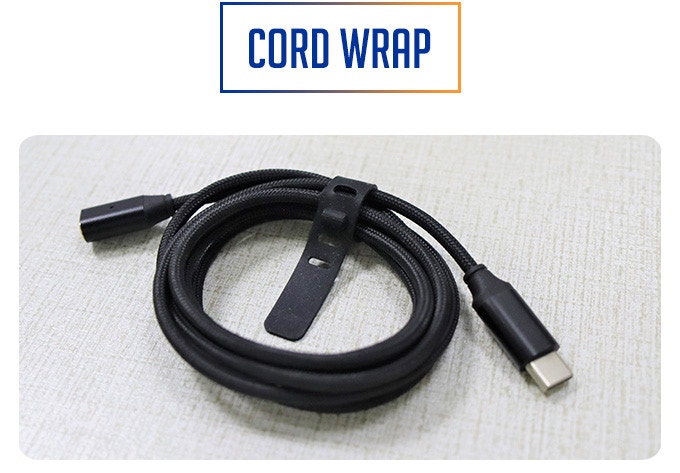 Each cable comes with a complimentary cord wrap, great for shortening the length of the cable or quickly wrapping the cable away for neat and tidy storage or transportation.

Through years of design and material testing, we've reduced the size of our magnetic cable tips to only 10mm (0.39") wide which fits perfectly into all your Apple and Android devices. We've tested the tips on over 100 phone cases and found it fit on all of them. The only exception is for some phone cases which have a protective flap on the charging port which may not be able to close properly with the tip in place. In saying that, we have tested with the popular LifeProof for iPhone X and Samsung S9 which fits fine. Do note that if you're using any old school phones such as the Samsung S5 phone with an inbuilt protective flap, you won't be able to close the flap with the tip inserted.
With the improved materials and machinery process we're using to build each UNO cable, we can now increase the warranty period from the standard 1 year you find from most cable brands to our premium 10 year warranty. Finally a cable that is designed to outlast your next decade worth of phones!
All previous Chargeasap products have been granted the following international certifications to meet quality manufacturing standards and sound environmental practices. UNO Cable will also be applying to receive these certifications before shipping.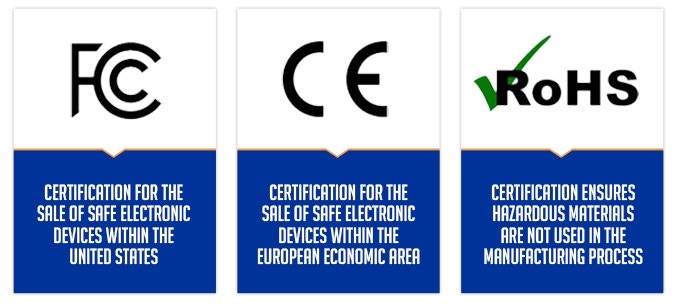 Beware of imitations, fake and low quality magnetic cables on the Internet. We have purchased samples directly off dozens of suppliers who claim to produce premium magnetic USB cables and performed both extensive laboratory and daily-use testing.
Here are our findings:
We have found many to not work as claimed, not be reversible, not transfer data nor charge your phone as it's maximum speed. We have even found some to create smoke and even damage your phone
Many of these companies offer cables that do not have the following international certifications: FCC, CE, ROHS and hence may not be approved for sale in your country. You should always ask the seller first if they have these international certifications before making a purchase
We have found many companies to use poor quality magnets that have weak magnetism or lose their connectivity over time due to no magnetic plating
We have found many companies produce tip designs that are too bulky to fit most phone cases